News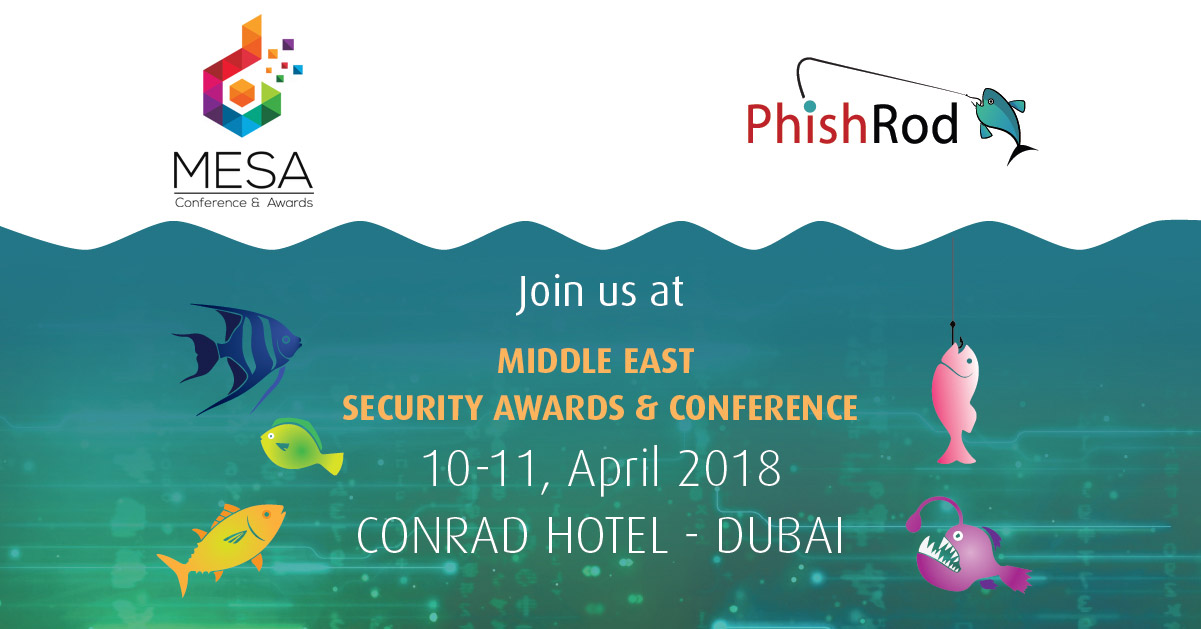 PhishRod, a leading phishing readiness & security awareness management company announced to be part of the Middle East Security Awards & Conference as Innovative Partner. The event will be held on 10th & 11th April in Dubai at Conrad Hotel, Dubai. Middle East Security Awards & Conference is the biggest get together of the cyber security professionals in the region. PhishRod will exhibit its expertise in the area of Phishing Readiness, Security Awareness & Threat Intelligence sharing.

This exciting event also brings the 2018 winners of the prestigious MESA Awards in various categories including CISO 100 awards, which honor a range of innovative projects that solve some of the toughest security problems.
PhishRod in collaboration with MESA will also be conducting a workshop on "Developing Enterprise Cyber Security Awareness Frameworks" The objective of the workshop is to enable the participants to develop an integrated and analytics driven security awareness framework. The workshop will also address why socially engineered attacks such as phishing are on the rise and what role end users can play for developing actionable threat intelligence.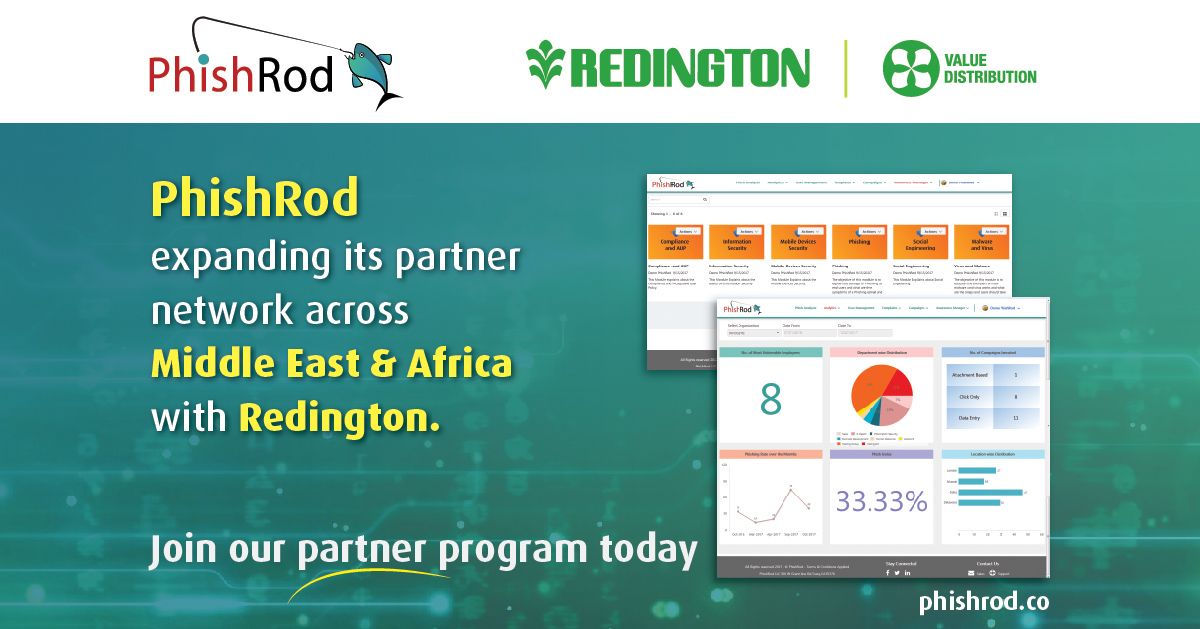 PhishRod has signed up with Redington Gulf to be its authorised distributor across Middle East and North Africa region. The partnership is aimed to leverage the strong footprint and experience of Redington Gulf in value distribution coupled with solutions from PhishRod for phishing readiness, security awareness and advisory management, said the company.

Ali Abid, chief commercial officer, PhishRod said, "Despite having the most complex and advance technology based solutions in place, organisations keep suffering from cyber attacks. Its simply because that the hackers now target the end-users. Socially engineered attacks such as phishing are becoming the most widely used mechanism to drop malwares."

He added that in the current threat landscape, technology and process are important but no cybersecurity strategy would be a success without engaging the end-users.
"We are extremely excited to announce this partnership with Redington to achieve our common goal that is to prepare end-users to take on the fight against cyber attacks."

According to the company, PhishRod helps organisations to identify vulnerable end-users and automates the entire cybersecurity awareness programme. PhishRod suit comes with PhishRod Simulator to identify vulnerable end-users and determine phishing index of an enterprise. PhishRod Security Awareness Manager is a complete solution for analytics and KPI driven cybersecurity awareness across the organisation while the PhishRod Advisory Manager helps to cascade the threat intelligence to the end-user level using the PhishRod Reporter. PhishRod supports both English and Arabic language for security awareness and comes with both on premise and cloud-based solution.

Ramkumar Balakrishnan, president, Redington Value Distribution said, "Analytics driven phishing readiness and cybersecurity awareness is a high growth area in cybersecurity. We are glad that we have PhishRod onboard now that covers the people part of cybersecurity strategy from a 360-degree perspective. We are looking forward to work very closely with PhishRod to expand this portfolio across the Middle East and North Africa region."
CyberWise, a platform for Security Awareness is now powered by DicoTech INFOGISTIC for expansion in Qatar. DicoTech INFOGISTIC, a specialized information security consulting company based in Qatar will have the full rights for sales, marketing and technical support provisioning of CyberWise services.

"Middle East has always been a target for hackers. Whether it is the oil & gas industry or the banking sector, organizations are at risk of exposing their confidential information as hackers continue to develop sophisticated mechanisms targeting the employees, such as Spear Phishing. Technology can only protect you up to a certain level, organizations need to invest in enabling an information security culture to reduce risks and CyberWise is just that platform. We believe, Qatar is a very strategic market for us as we continue to help organizations reduce their risks through security awareness."

About CyberWise: CyberWise is a security awareness platform powered by INFOGISTIC with the notion to reduce information security risks by changing user behaviors through security awareness. CyberWise platform offers services such as PhishRod, CyberAware, CyberWise Security Awareness Management System & CyberGuard. For further details, please visit www.cyberwise.co
A large bank in UAE has been the latest victim of cyber-attack by a malicious hacker. The hacker breached the bank's system and has control over a large customer data. The bank is being black mailed and has been demanded 3 million in ransom. Hacker has also been threatening customers via text messages and emails saying their accounts were under his control and that they must pay him directly or gets their bank to do so failing which he would release their bank statements online. The hacker has already exposed financial information of 500 of bank's customer.

Customers are agitated over the losses they are suffering because of Bank's bogus security controls. The attack is the worst cases of cyber-crime in the history of UAE.

Despite the strict security controls and massive investment in technology, there are still vulnerabilities that put organizations on risk. Organizations put more stress on investing in sound well integrated technology but ignore the importance of security awareness initiatives. A good security awareness program not only educates the employees about attack prevention but also teaches how to handle in case a the threat is detected