Policy Compliance Manager Detail
Policy Compliance Manager
Ensure compliance & consent of all corporate policies through Policy Compliance Manager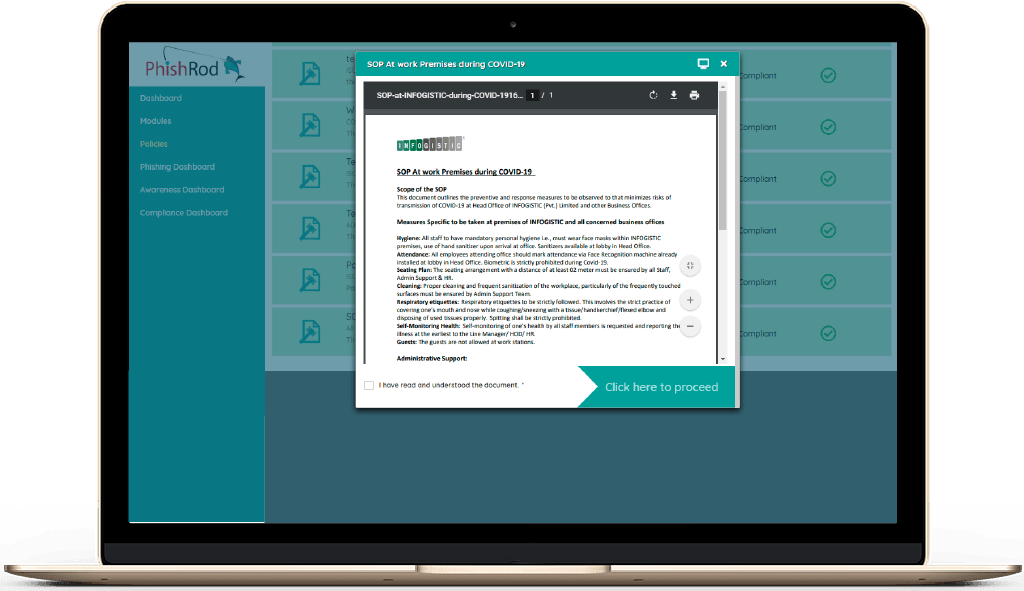 Organizations develop policies & procedures to communicate the rules of engagement to the end users. In most cases, the policies are developed and uploaded on a centralized portal with no visibility even about the read ratio. A lot of strategic initiatives such as ISO 27001, PCI-DSS, ISO 22301 etc. demand end users to be aware of the IT Security policies developed under the program. The auditors would need to have proof if the policies reached out to the end users and they have fully understood the rules of engagement defined in the policy.
Policy Compliance Manager is designed to simplify the compliance of corporate policies & procedures. A project for compliance can be created, for example "ISO 27001" and all related policies related to this project can be uploaded in this project. While uploading the policy, a quiz can be created with a passing criterion. Mandatory learning points can also be defined.
A CISO can assign corporate policies to the end users with a defined time period. The end user has to go through the policy, mandatory learning points and the quiz. The end users will only be shown compliant on the dashboard if he/she completes the passing criteria.
PhishRod Policy Compliance Manager maintains a powerful dashboard that provides the following Key Performance Indicators for compliance.
Organization Wide Policy Compliance Index
Department Wide Policy Compliance Index
Individual User Policy Compliance Index
Correlation between Phishing Index, Awareness Index & Policy Compliance Index
Most Compliant Department
Compliance Index for a specific policy
Compliance Index for a Specific Project
Key Benefits
Automated workflow for policy compliance, consent & policy approval
Organization-wide coverage of corporate policies & procedures
KPI Driven approach for policy compliance & consent
Automated Scheduler allows the scheduling of the policies that need to be rolled out to the entire organization, department or respective end users at a particular day, date and time.
In most cases, the end users just follow the "tick the check box" approach without understanding the rules of engagement defined in the policy. PhishRod Policy Compliance Manager allows to create key learning points which enforces the end users to go through the content before they provide consent. A quiz can be created with a policy to gauge the understanding of the policy by the end user.
A policy can be uploaded under a project which ensures that the compliance of the policies is project specific. Our analytics driven approach ensures that you have complete visibility on policy compliance index for a particular project at organization, department & end user level.
Our Policy Compliance Manager provides complete document management workflow that allows, creation of new projects, upload policies, define learning points, create quiz, assign policies and approval workflow for any new policies being published.